7IP-CAPLCD
Introduction
7IP-CAPLCD is a universal HDMI display, an IPS screen with 1024x600 resolution. This display has a capacitive touch panel, supports up to 5-points touch. 7DP-CAPLCD supports Raspberry Pi, Jetson nano Developer Kit, can be used as a monitor of desktop PC.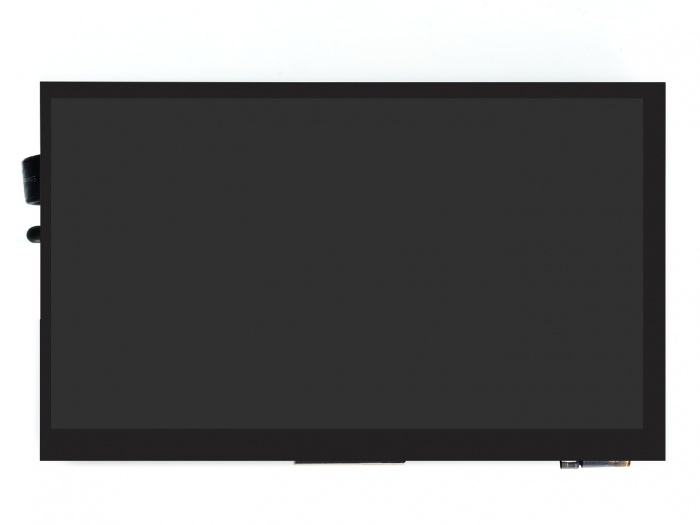 Features
7inch IPS screen, 1024x600 hardware resolution. support software resolution (up to 1920×1080)
Supports mini PC like Raspberry Pii, Jetson Nano Developer Kit
When working with Raspberry Pi, it supports Raspbian / Ubuntu / Kali / Retropie and WIN10 IoT, driver free
When working with desktop PC, supports Windows 10 / 8.1 / 8 / 7, 5-points touch, driver free
3.5mm earphone jack supports HDMI audio
OSD menu for parameters adjustable like brightness, contrast, volume, and so on.
User Guides
This display supports mini PC like Raspberry Pi, it can also be used as a monitor of PC. Herein we take Raspberry Pi and Windows PC as examples, show you how to use the display.
Connect to PC
The display supports Windows 7/8/8.1/10 when working with Windows PC, supports 5-points and it is driver free.
Connect the Touch interface of display to USB port of PC by micro USB cable.
Connect the DISPLAY interface of display to HDMI port of PC by standard HDMI cable.

If you require audio, connect your earphone to HO interface, and see the audio output of PC to HDMI

Wait for displaying,
【Notices】
If the screen doesn't display after connecting, please check if you connect all the cables properly, replug them and test it again. Sometimes you may need to restart PC if the PC doesn't support hot-plug.
The touch panel can only control the main display if multiple screens are connected to PC at the same time. In this case, we recommend you to set the 7IP CAPLCD as the main display.
The display may flicker because of the low voltage problem of USB port, if you face such a problem, you can connect external 5V power adapter to display.

Connect to Raspberry Pi
The 7IP-CAPLCA supports Raspbian/Ubuntu/Kali/Retropie and WIN 10 IoT. Only single-point touch is supported in most of OS, multiple touches may be supported in some software, max 5-points.
Raspberry Pi doesn't support hot-plug and auto-recognized the resolution, you need to configure the resolution manually, otherwise, the display cannot work normally.
Downolad the newest Raspbian image from Raspberry Pi website(Full or Desktop version is recommended )
Insert the TF card to host PC by card reader and format it.

If you have TF card which is ready to use, you can skip to Step 4.

Write Raspbian (.img file) to TF card by image writer software.

Note: you need to unzip the zip file to get the .img file.

After writing, open the config.txt file which is located in BOOT directory and modify it.
Remove the line dtoverlay=vc4-fkms-V3D
Add the following lines to the end of config.txt file then save.
max_usb_current=1
hdmi_force_hotplug=1 
config_hdmi_boost=10
hdmi_group=2 
hdmi_mode=87 
hdmi_cvt 1024 600 60 6 0 0 0

Insert the TF card to Raspberry Pi
Connect Touch interface of the display to a USB port of Raspberry Pi

The display may flicker because of the low-voltage problem, in this case, you can connect an external power adapter to LCD.

Connect Display interface to HDMI port of Raspberry Pi

If you require audio function, inset earphone to HP interface of LCD and set the audio port to HDMI

Power on Raspberry Pi and the screen will display.

连接Jetson Nano Developer Kit使用
连接Jetson Nano Developer Kit 使用时,由于主板可以自动适配屏幕,无需另外做配置
将屏幕的Touch接口用micro USB线连接到Jetson Nano的USB接口

如果Jetson Nano的USB口供电不足,可能导致屏幕出现闪屏,可以另外连接5V电源到Power Only 接口做额外供电。

将屏幕的Display接口用HDMI线连接到Jetson Nano的HDMI接口

如果需要音频,将耳机线接入到HP接口,注意将Jetson Nano音频输出接口设置为HDMI屏幕

上电启动Jetson Nano,等待几秒后可以看到LCD正常显示。

接口/按键介绍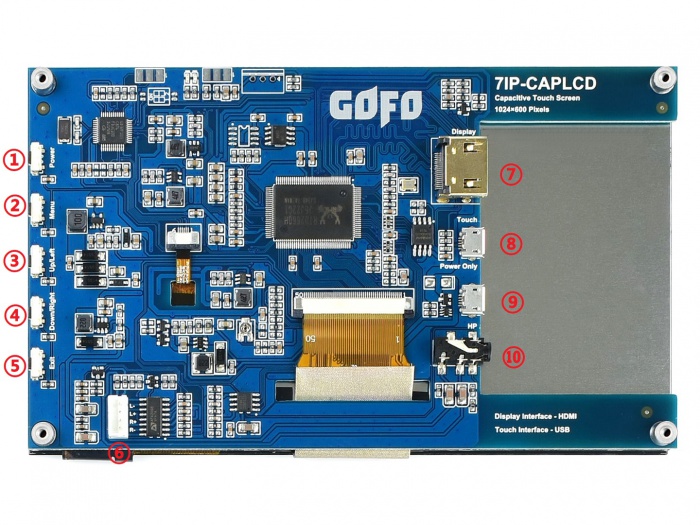 ①:屏幕背光电源开关按键
②:OSD菜单按键
③:方向键(左/上)
④:方向键(右/下)
⑤:退出返回按键
⑥:喇叭接口
⑦:HDMI显示接口
⑧:触摸接口
⑨:供电接口
⑩:3.5mm音频接口
软件资源
相关链接