7IP-CAPLCD
Introduction
7IP-CAPLCD is a universal HDMI display, an IPS screen with 1024x600 resolution. This display has a capacitive touch panel, supports up to 5-points touch. 7DP-CAPLCD supports Raspberry Pi, Jetson nano Developer Kit, can be used as a monitor of desktop PC.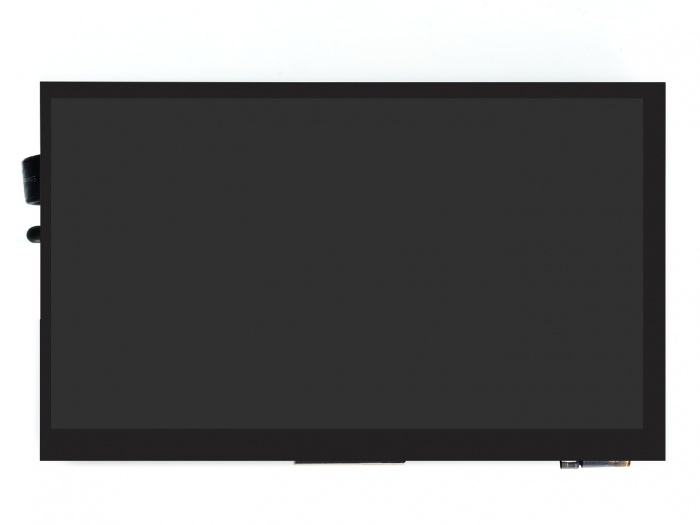 Features
7inch IPS screen, 1024x600 hardware resolution. support software resolution (up to 1920×1080)
Supports mini PC like Raspberry Pii, Jetson Nano Developer Kit
When working with Raspberry Pi, it supports Raspbian / Ubuntu / Kali / Retropie and WIN10 IoT, driver free
When working with desktop PC, supports Windows 10 / 8.1 / 8 / 7, 5-points touch, driver free
3.5mm earphone jack supports HDMI audio
OSD menu for parameters adjustable like brightness, contrast, volume, and so on.
User Guides
This display supports mini PC like Raspberry Pi, it can also be used as a monitor of PC. Herein we take Raspberry Pi and Windows PC as examples, show you how to use the display.
Connect to PC
The display supports Windows 7/8/8.1/10 when working with Windows PC, supports 5-points and it is driver free.
Connect the Touch interface of display to USB port of PC by micro USB cable.
Connect the DISPLAY interface of display to HDMI port of PC by standard HDMI cable.

If you require audio, connect your earphone to HO interface, and see the audio output of PC to HDMI

Wait for displaying,
【Notices】
If the screen doesn't display after connecting, please check if you connect all the cables properly, replug them and test it again. Sometimes you may need to restart PC if the PC doesn't support hot-plug.
The touch panel can only control the main display if multiple screens are connected to PC at the same time. In this case, we recommend you to set the 7IP CAPLCD as the main display.
The display may flicker because of the low voltage problem of USB port, if you face such a problem, you can connect external 5V power adapter to display.

连接树莓派使用
连接树莓派使用时,支持Raspbian/Ubuntu/Kali/Retropie和 WIN 10 IOT系统,支持单点触控(在某些软件界面可以支持多点触控,最高支持5点触控,具体视系统情况而定)。
由于树莓派不支持自动适配屏幕,因此在连接树莓派使用的时候,需要手动设置分辨率,否则将显示异常,这里以Raspbain为例,介绍如何设置屏幕。(其他系统的设置方法基本类似)
从树莓派官网下载最新的Raspbian镜像(建议下载带图形界面的版本)
将TF卡连接到电脑,用格式化软件将TF卡格式化

如果你已经烧写好镜像,请直接跳到config.txt文件的设置一步

使用镜像烧录软件,将准备好的镜像文件烧写到TF卡上。

注意,如果是下载的压缩包,需要先将压缩包解压,获得.img文件才可以

烧写完成后,打开TF卡BOOT目录下的config.txt文件,找到语句dtoverlay=vc4-fkms-V3D,将这条语句注释掉
在cofnig.txt文件的最后加入以下设置语句,保存。然后将TF卡安全弹出
max_usb_current=1
hdmi_force_hotplug=1 
config_hdmi_boost=10
hdmi_group=2 
hdmi_mode=87 
hdmi_cvt 1024 600 60 6 0 0 0

将TF卡插入树莓派
将屏幕的Touch接口用micro USB线连接到树莓派的USB接口

如果树莓派的USB口供电不足,可能导致屏幕出现闪屏,可以另外连接5V电源到Power Only 接口做额外供电。

将屏幕的Display接口用HDMI县连接到树莓派的HDMI接口

如果需要音频,将耳机线接入到HP接口,注意将树莓派的音频输出设置为HDMI

上电启动树莓派,等待几秒后即可正常显示

连接Jetson Nano Developer Kit使用
连接Jetson Nano Developer Kit 使用时,由于主板可以自动适配屏幕,无需另外做配置
将屏幕的Touch接口用micro USB线连接到Jetson Nano的USB接口

如果Jetson Nano的USB口供电不足,可能导致屏幕出现闪屏,可以另外连接5V电源到Power Only 接口做额外供电。

将屏幕的Display接口用HDMI线连接到Jetson Nano的HDMI接口

如果需要音频,将耳机线接入到HP接口,注意将Jetson Nano音频输出接口设置为HDMI屏幕

上电启动Jetson Nano,等待几秒后可以看到LCD正常显示。

接口/按键介绍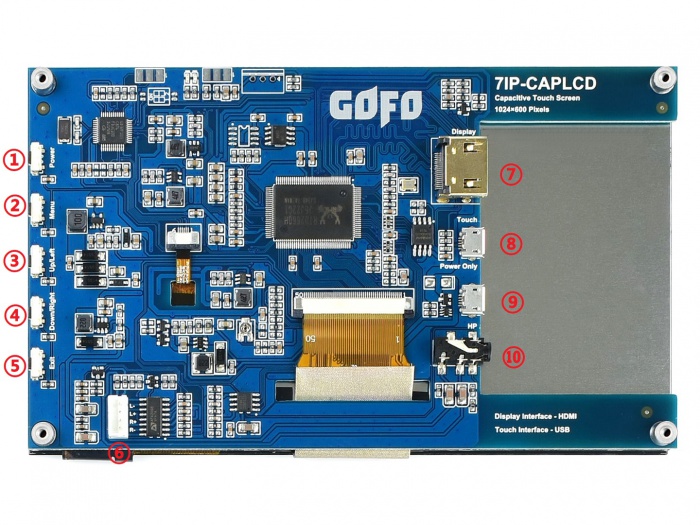 ①:屏幕背光电源开关按键
②:OSD菜单按键
③:方向键(左/上)
④:方向键(右/下)
⑤:退出返回按键
⑥:喇叭接口
⑦:HDMI显示接口
⑧:触摸接口
⑨:供电接口
⑩:3.5mm音频接口
软件资源
相关链接