2.13inch e-Paper HAT
产品介绍
这是一款2.13inch电子墨水屏显示模块, 分辨率为250x122, 支持黑白两色刷新, 通信接口为SPI接口。
特点
尺寸: 2.13 inch
外形尺寸(裸屏):59.2mm × 29.2mm × 1.05mm
外形尺寸(驱动板):65mmx30.2mm
显示尺寸:48.55mm × 23.71mm
工作电压:3.3V/5V
通信接口:SPI
点距:0.194* 0.194
分辨率:250*122
显示颜色:黑、白
灰度等级:2
局部刷新 :0.3s
全局刷新 :2s
刷新功耗 : 26.4mW(typ.)
待机功耗 :<=0.017mW
【备注】: 刷新时间:刷新时间为实验测试数据,与实际刷新时间会有误差,以实际效果为准。全局刷新过程中会有闪烁效果,这个是正常现象
功耗:功耗数据为实验测试数据,实际功耗由于驱动板的存在和实际使用情况的不同,会有一定误差,以实际效果为准

SPI 通信时序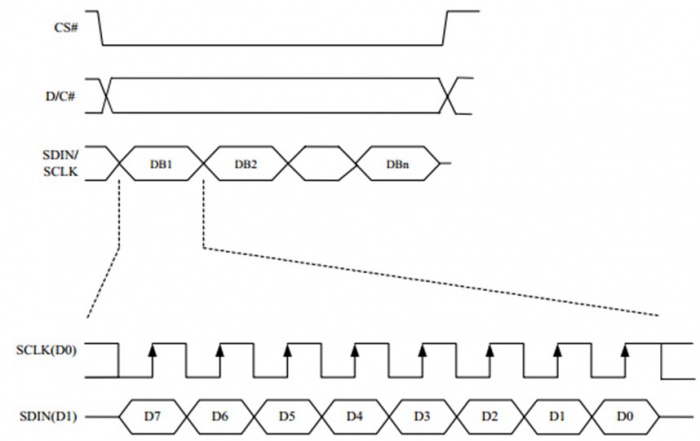 由于墨水屏只需要显示,这里将从机发,主机收的数据线(MISO)隐藏。
CS:从机片选,当CS为低电平的时候,芯片使能
DC:数据/命令控制引脚,当DC=0时写入命令;DC=1时写入数据
SCLK: SPI通信时钟
SDIN:SPI通信主机发送,从机接收
时序:CPHL=0, CPOL=0 (SPI0)
【备注】具体关于SPI通信的相关信息,可以自行网上搜索资料了解
墨水屏刷新原理
像素与字节的关系
对于黑白图片,我们可以规定,如果如果是黑色我们定义成0,如果是白色就定义成1,那么有了表示颜色的方式:
白色:□,对应1
黑色:■:对应0

一个点在图形上一般称之为像素点(pixel),而颜色不是1就是0,也就是1个位就可以标识颜色:1Pixel = 1bit,那么一个字节里面就包含了8个像素点。

以16个像素点为例,我们假设前8个像素点为黑,后8个像素点为白色,那么可以这么认为,像素点1-16,对应这0位到15位,0表示黑色,1表示白色:



对于计算机而言,它的数据存储方式是高位在前,低位在后,且一个字节只有8个位,因此会有一点改变:



这样只需要2个字节即可表示16个像素点了。

使用说明
资料
文档
程序
数据手册
开发资料
FAQ
1、Working requirements of e-Paper?|
【Working】Temperature: 0~50°C; Humidity: 35%~65%RH
【Storage】Temperature: ≤30°C; Humidity: ≤55%RH; Max storage time: 6 months
【Transport】Temperature: -25~70°C; Max transport time: 10 days
【Unpack】Temperature: 20°C±5°C; Humidity: 50%RH±5%RH; Max storage time: Should be assembled in 72h
2、 What do you need to note about e-Paper refreshing
Refresh mode

Full refresh: e-Paper flicker when full refreshing to remove ghost image for best display.
Partial refresh: It doesn't flicker if you use partial refresh (only some of the two-color e-paper support partial refresh). Note that you cannot use Partial refresh all the time, you should full refresh e-paper regularly, otherwise, ghost problem will get worse even damage

Refresh rate

When using, you should set the update interval at least 180s. (except Partial supportable types)
Please set the e-Paper to sleep mode or power off it directly, otherwise, the e-Paper is damaged because of working in high voltage for a long time.
You need to update the content of three-color e-Paper at least one time every 24h to avoid the burn-in problem.

Working place

We recommend you to use the e-Paper indoor. If you need to set the e-paper outdoor, Please place the e-paper in shadow and protect it from UV. When you designed you e-paper product, you should take care about the working situation like temperature, humidity, etc.
3、Why the e-Paper display a black frame?
You can configure Border Waveform Control register or VCOM AND DATA INTERVAL SETTING register to change the frame.
4、Could the e-Paper work again after sleeping?
You can use the initial function to wake it up and then update.